Market Strategy and New Business Development – A³ – Pricing & Pipeline Management Teaser – October 2018
Tags : A³ Customer focus Growth Plan Market Strategy Pipeline Price Analysis and Simulation R&D

«The transition from R&D to market development is too often a weak link: it has to be re-designed »
As we have the day to day Know-how for near 20 years, 400 missions and 100 recurring customers, as we built through all those years Experiences and Method to improve Sales & Marketing Performance, Turnover and Margin: We have created a customized Approach and Tools to your new challenges for Growth: "A³"
1. Industry evolves faster and faster…
Globalization vs. regionalization, Environmental focus, Energy Challenges, E-Commerce, trading, mergers & acquisitions… The Industrial world is deeply changing and so is the Chemical Industry: 20 years ago, we used to say that « Companies change, but Products & Assets remain » now we could say « Companies, People, Assets, and even the Products change »: Differentiation is still one of the most important concepts today to stay on the Global battlefield.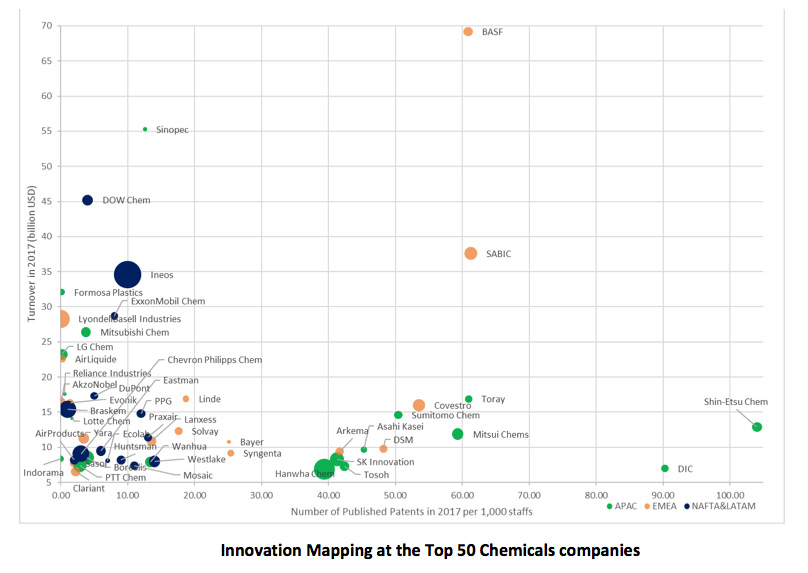 The graph above illustrates the number of published patents in 2017 per 1,000 employees vs. the 2017 turnover for the top-50 chemicals companies. The bubble size reflects the turnover of each company by 1,000 employees.
2. …an increasingly complex way
To keep growing or consolidating its #1position, the Industry has to reinvent and adapt itself every day in all their skills fields: Mergers & Acquisition, Finance & Controlling as well as Product portfolio, R&D, Production, Supply Chain, ERP, CRM, … All functions & processes within a Company are impacted and it is up to Management to focus their priorities. In this context, the constant improvement of « Sales & Marketing » processes become also a race for continuous improvement through:
Using CRM Tools
Nurturing and strengthening of customer relationships
Digitalize Marketing, Sales, Go to Market functions
And gain new customers, markets….
3. How to handle this speed-up to stay in the race?
By having a customized decision-making tools based on your own updated data for:

Strategic Marketing (« What market segments, what country/region, what offer for what volume / pricing couple, what related services, what channel-to-market…»)
New Business Development (« How to reduce the time to market from a new product development to a New Sales Opportunity… »)
Managing current clients & key account relationships at the right level
Organizational & Operational (« How to integrate Sales & Marketing in the daily business, how to better use the internal & external Data as well as what comes from our Legacy") …
With specific adaption to the classic decision-making criteria for Marketing & Sales in the Chemical Industry such as:
Product portfolio broadness
Technical & Supply chain challenges (Hazardous materials, European-Chinese regulation, REACH…)
Specificities of each market (« The same polymer might be used for both Medical devices and an aerospace application »)
Life cycle challenges (« 10 years to create a new composite for a Smartphone with a 3 years life cycle in the market")
Global market supply but varying local environmental regulations, …
As well as to new growing aspects seen the last few years:
Client volatility (« Should we go from an individualized forecast to a statistical forecast and try to be better at identifying flags / potential barriers…? »)
More global purchasing practices and the rapidity to share Best Practices
Tight Supply Chains
ERP rolled out (or tentatively rolled out until the next merger or acquisition happens…)
Digital as a driver of growth and globalization
The pressure to show that R&D can lead to profitable business and that growth is not only driven by Mergers & Acquisitions
Strategic decisions are more and more centralized and fast, …
4. What does it mean? You need new tools to support your decision
Tools catching multiple data sources for analyzing, weighting, summarizing and simulating them in order to plan and quickly make secured decisions: Tools integrating these new realities (« Always more criteria, more raw data», « Reactivity of the push / pull innovation cycle", "Introduction on the market is clearly becoming a differentiation-criteria »). Tools customizing, populating with company data – external data, and taking into consideration the speeding-up of the Industry changes (products, markets, clients, organization…).
5. A³ a New Step
We have BtoB Marketing Strategy and NBD day to day business experience, it is our DNA since 2000 and near 400 projects.
With the support of our Technology Partner we have create A³ Method to drive "A"ttractive Market – "A"ttractive Customer with our "A"ccessible capabilities in a complex and multi-dimension data environments: A³ support decision making process and help you answer questions to make the right analysis and decisions and:
Better use of internal data
Better approach the topics in our expertise area: « Sales & Marketing in Chemistry »
Increase the synergies between R&D and Marketing & Sales
For example, A³ has been made to improve – using existing sales data – Opportunities Pipeline, Sales pricing & margin….
6. Why you will use A³? For Pricing & Pipeline.
To have analytical answers to questions such as:
Are the opportunities we are pursuing in the right markets? Are they accessible and attractive for us? How should we rank one over another? What priorities and sales effort should we allocate…?
Is our pricing with all subsidiaries of our Key Account customers consistent?
Are our pricing policies consistent by market, by typology of customers A/B/C, by region, by applications…
On what clients should we focus our commercial and technical support efforts today and tomorrow as well as the next quarter or year …?
How to increase our Pipeline Win ratio?
And simulation on your own updated data to define your Strategy:
What additional sales revenue can we generate?
What margin can we make?

If we increase / decrease our price by…
If I lose / win clients (Elasticity principal and calculation)

On this group of Clients (cat. A/B/C), Key Account, Market, Applications, Country, Region
Or for this product/product line?

In conclusion, having operational data is not enough anymore!
A³ assists you to analyze and decide on a streamlined process that manages a very large amount of up-to-date internal and external data, to:
Develop calculation models and analyze them through graphic displays
Have access to calculation capacities and simulation enabling scenarios to be run using past data to forecast future outlook
Decide using a process to enable the organization to make decisions
… And most importantly, to position your business in a continuous, fast, repeatable and efficient process.
Follow us to get technical details on A³ … Our next Newsletter will be all about A³, how it works, the Analytical Tool part vs. the Simulation parts for forecast… Coming up soon! Stay tune!
https://www.linkedin.com/company/daydream-sales-force/
https://www.linkedin.com/company/dynovel-inc-/
10/10/2018