To People Who Are Daring to Try Something New … but Can't Get Started – Dynovel Business Consulting – July 2018
Tags : Chicago food technology industry IFT18 iftevent.org

IFT 18 Annual Meeting & Food Expo
Chicago, Illinois, July 15-18, 2018 – The IFT is the International Food Technology Conference which takes places annually and is open for all businesses and stakeholders in food technology. This year over 20,000 people are expected to attend the conference in Chicago, Illinois from July 15th-18th. The IFT's purpose is to bring the most creative minds in the science of food technology industry together to collaborate, learn, and contribute all with the goal of inspiring and transforming collective scientific knowledge into innovative solutions for the benefit of all people around the world.
Who is Dynovel/Daydream and what exactly do we do?
We are the B to B Market Strategy and Business Development Partner of choice for clients focused on the world of chemistry and materials such as: Polymers Petroleum, Energy, Food Technology and more! At Dynovel we use our precise and proven Methodology that we've developed over years of experience in the chemicals and materials industries to provide service in 4 key areas:
Market analysis and assessment
Business development and sales growth
Team coaching and people development
Implementation of a proven Methodology and Tools as Pricing Improvement….
Dynovel/Daydream is able to reach a multitude of markets worldwide with a multi-cultural and world-class team of highly-skilled engineers, PhDs, and sales and marketing specialists. Furthermore, we have global offices in North America, Europe, and Asia along with secondary assets in emerging markets.
Presentation of Credentials and Past Experiences
Dynovel, among other markets, of expertise is notably experienced in the food Ingredients industry. Many projects have been completed in this industry and our experience and methods can help businesses view their innovative technologies in the market as it is shown below in the following case studies with major players of the Food Ingredients industry:
Case Study 1
Problem: A client of Dynovel's was a global producer of specialty food products and developed a new fermentation process to yield a natural sweetener.
Request: Dynovel's client wanted to know if it was a good time to commercialize their product and also wanted to know which market segments it could be best utilized.
Case Study 2
Problem: A client of Dynovel's was seeking marketing information and market data for specialty plant-based protein ingredients used for functional food, beverage, and nutritional applications (shakes, bars, smoothies, etc.)
Request: Dynovel's client wanted to determine the types of trends in the market and what would be the new trending plant-based protein in the market as well as estimate market size.
Results: After using Dynovel's proven methodology, Dynovel was able to successfully profile, map, and compare all of the plant-based proteins and determined those that exhibit the most market potential. All price figures for each protein investigated were consolidated and compared. Key players were determined along the plant-based protein value chain. Unmet needs and drawbacks were identified within the plant-based protein market. We identified any desirable or undesirable characteristics for plant-based proteins. Consumer trends were established among all in-scope plant-based proteins within the market, including distinguishing between conventional and organic products. The current volume of plant-based protein used in North America, Europe, and Asia was established and each protein was ranked by popularity in each region. Furthermore, recommendations were given on the next steps towards business development.
Case Study 3
Problem: One of Dynovel's clients had considered developing an organic liquid sweetener.
Request: Dynovel's client wanted to understand the use of liquid sweeteners, its value proposition and chance of penetration and success by the consumer market as well as the price positioning in the United States market.
Results: Dynovel conducted an extensive Voice of customers campaign and identified interest in several of the investigated markets. Dynovel qualified the value proposition of the organic liquid sweetener based on direct client feedback. The price expectations for non-GMO and organic liquid sweeteners were identified too.
Case Study 4
Problem: A client of Dynovel is a multinational chemicals supplier and had completed development on three grades of flavor modulation technologies. These products have been commercially launched in Europe and the US, and now focus has shifted to bolstering sales in the US market. This company wanted to target these segments: Food and Beverage and Nutrition markets; which includes, Sweet Fresh and Frozen Bakery, Chocolate, Premixes, Cereals, Sports Nutrition, Dietary Supplements, Senior Nutrition, and General Well-Being Therapeutic Nutrition.
Request: Dynovel's client wanted to find the pipeline of leads and sales opportunities, identify potential customer volume of flavor use that client has potential to tap into and generate sales opportunities when possible.
Results: The key challenge for the client was to manage to penetrate a brand new level of the value chain, downstream, as compared to their classic customers and thanks to Dynovel, a qualified database of target companies from the Food and Beverage and Nutrition segments has been delivered. Dynovel performed in-person sales meetings with potential customers located across the United States. Over ¼ of potential customers provided feedback and initiated sample trialing with 63 companies. At the end of the collaboration, the generated pipeline of sales opportunities enabled Dynovel's client to sign for about $…K the first year following Dynovel's NBD project.
Presentation of Availability
We will be available to meet at IFT in Chicago to discuss your next Market and NBD challenges in the Food Ingredients industry. We would love to help and meet all businesses who would be interested.
For more information please contact:
Stephanie Lorini
North American Business Director
Office Phone: 610-660-0121 x202
Cell: 610-457-0090
Email: stephanie.lorini@dynovel.com
Our best clients: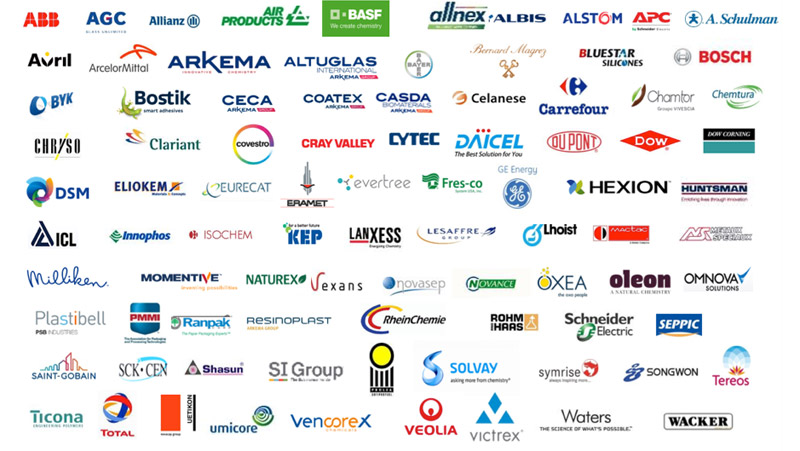 13/07/2018