White Paper Introduction:
Hydrogen is gaining more attention as a potential source for clean and sustainable energy. Currently, it is produced from non-renewable raw materials (grey hydrogen) and has a significant carbon footprint. However, it could become one of the most viable fuels made from renewable resources and be emission-neutral (green hydrogen) with strong investment in research, development, and production assets. Numerous applications are expected to benefit from advanced hydrogen technologies and multiple options are available for production and transportation/storage.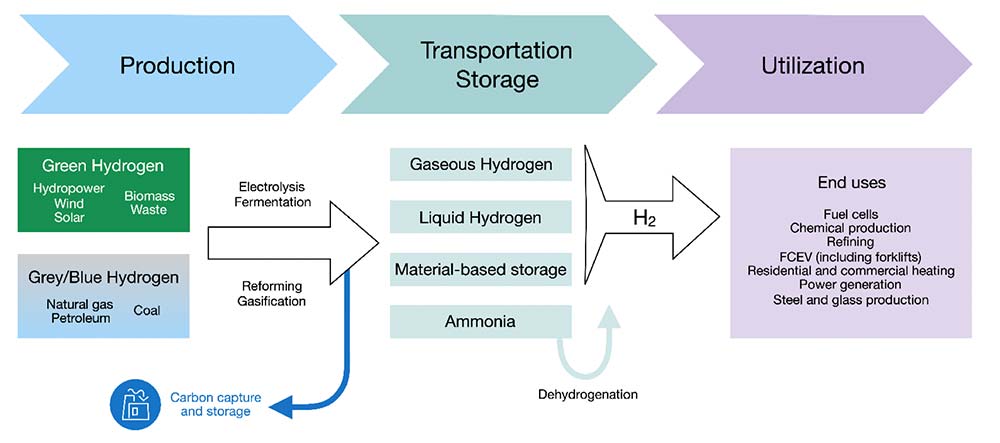 Asia-Pacific will remain the leading region for hydrogen output, accounting for 45% of global volume generated in 2025. This is primarily driven by China, where large R&D spending and high growth rates will lead to increased hydrogen production in the coming years. Europe is projected to increase its capacity by an additional 9 million metric tons by 2025 but will continue to rely heavily on imported hydrogen.
Today, hydrogen is mainly used for both refining and chemical production (e.g., ammonia and methanol). It is expected that consumption will evolve towards an increasing share for transportation (fuel) as well as power and heat generation.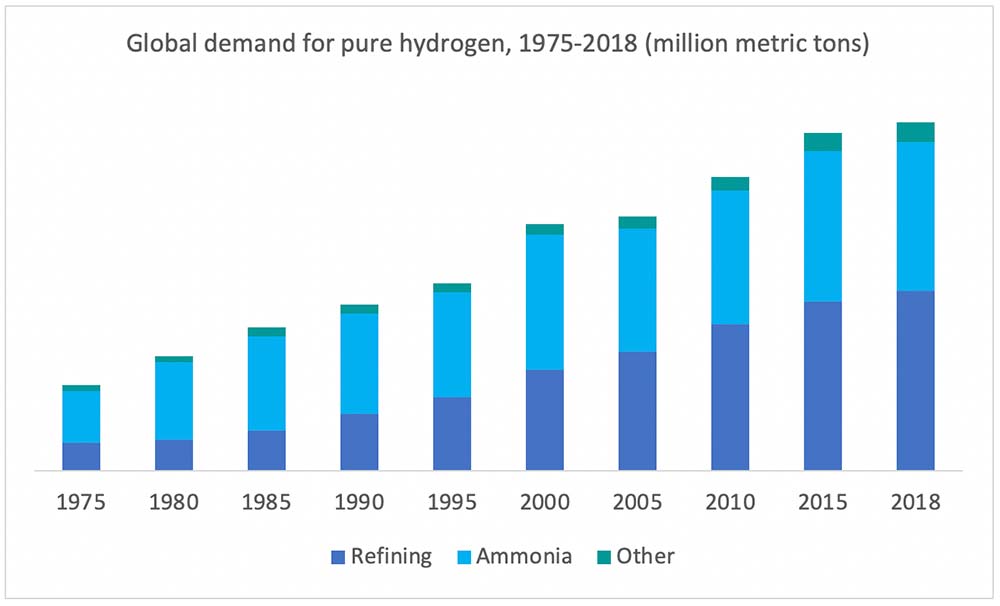 The US market in particular is forecasted (ambitious scenario) to consume nearly 30 million tons of hydrogen for transport in 2050, while usage as feedstock would decrease from ~90% share in 2018 to 28% in 2050.
Because of the strategic importance of hydrogen, most of the leading world economies have developed a hydrogen strategy or roadmap. The purpose of these strategies is to increase development and investments for hydrogen transport, storage, and applications to help make hydrogen cleaner, economical, and sustainable.
While the country goals appear similar at first sight, differences can be identified in their focus on specific applications or production types – for example, the number of Hydrogen Refueling Stations (HRS) projected by different countries to ensure the development of Fuel Cell Electric Vehicle (FCEV).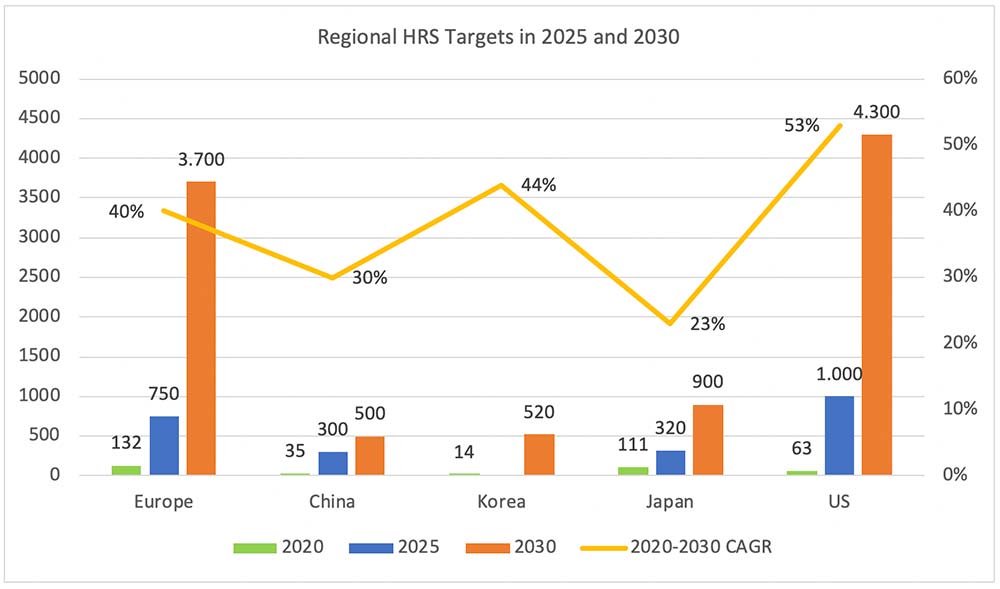 Daydream Hydrogen Energy Global Road Map 2020-2050 White Paper:
To provide further insight and detail on the Hydrogen Global Road Map, we developed a white paper in Dec. 2020.
This report provides an extensive overview of:
The hydrogen market characteristics, from production technologies and their challenges to projected consumption volumes
Hydrogen value chain, key players, and dominating future applications
It also analyzes the ambitious roadmaps of leading countries and spots differences in strategies to help you unveil the right focus for your own investments and business development activities.
Is your team interested in joining the hydrogen movement but not sure where to start? Whether you are just entering the playing field or have a set of initiatives established, Daydream-Dynovel is here to help secure growth opportunities in the hydrogen market with the best ROI.
White Paper Table of contents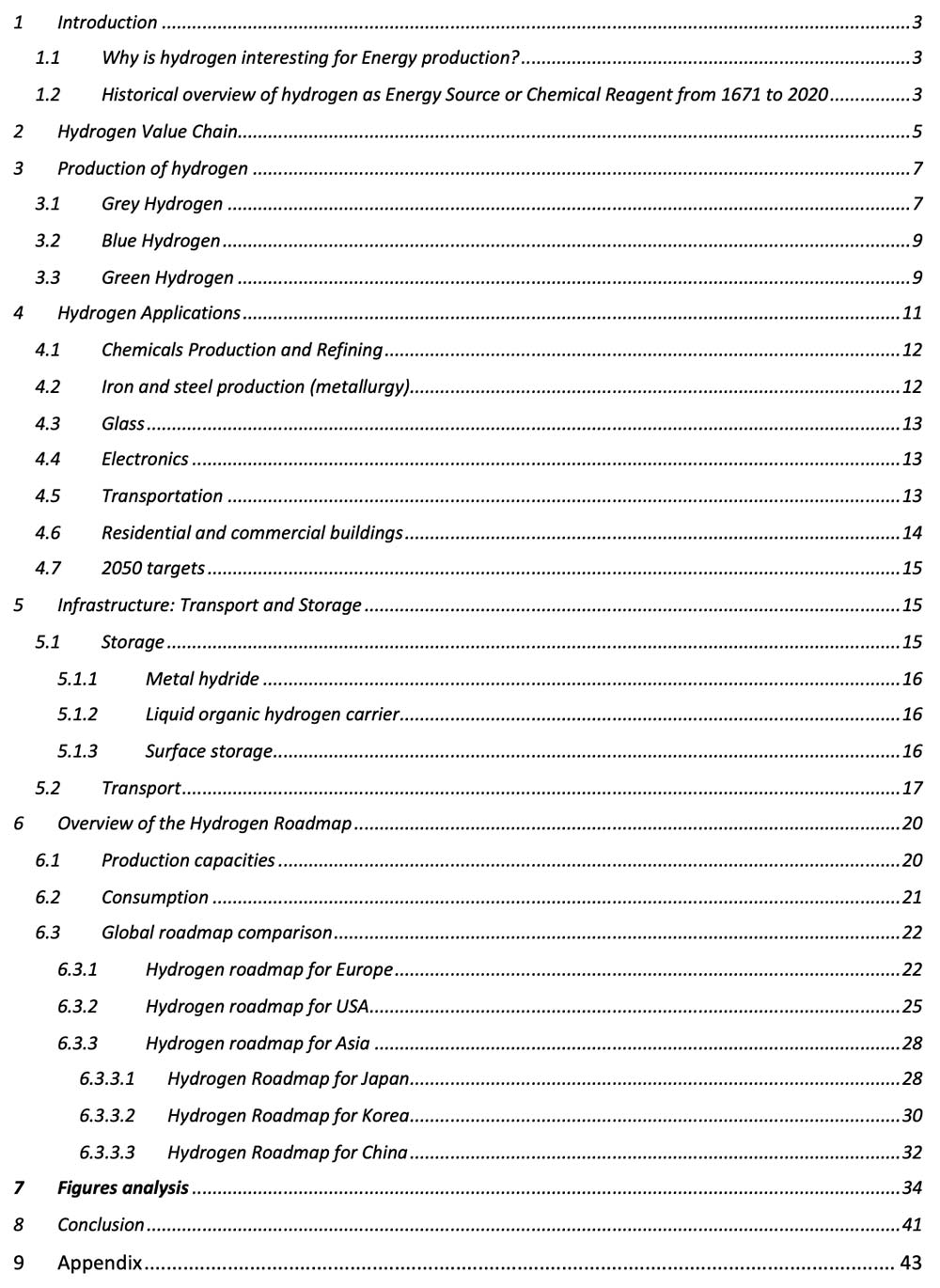 White Paper Price:
You can download this White Paper in pdf format upon purchase:
Once the secure payment is processed, you will receive an email notification with the link and password to download the purchased document.
You will also receive an invoice from Daydream and Dynovel via our payment processing platform (Stripe).
Please contact us for additional information at contact@daydream.eu
For Asia you can also contact yusi.chen@daydream.eu Daydream-Dynovel publications are under the Personal Data Protection Law available by e-mail at contact@daydream.eu