China's Ban On Single-Use Plastics and Its Impacts Daydream – Dynovel November 2020

Introduction
For several years, the Chinese government has been taking strong actions to strengthen its environmental protection policies, rules, implementation, and control, which bring both challenges and opportunities across the value chains of various industries in this country.
From Jan. 2020, China has issued a new policy containing a set of restrictions on single-use plastics and indicating the timeline for implementation. Though China has released several regulations in the past 20 years to ban the use of some disposable plastics and encourage the use of reusable and bio-degradable plastics, this new one is considered to be the most serious.
Today, the annual consumption of plastic bags in China is still over 4 million tons, holding around 5% of the production of total plastic products in 2019, despite the annual growth rate of demand decreasing from 20% before 2008 to less than 3% today. In recent years, the fast-growing e-commerce and online food delivery markets became the new drivers of demand for plastic packaging.
This new policy on single-use plastics will modify the landscape of several industries.
In this article, Daydream gives a brief introduction on what this new ban policy is about, how it will impact the plastic industry, and how the key market players are responding to it.
Some facts and figures: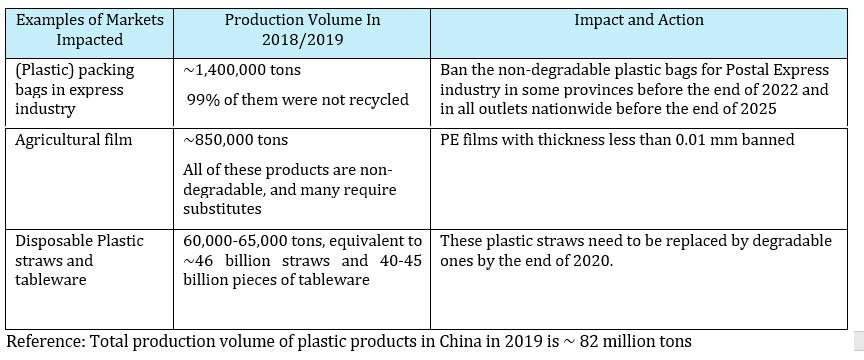 China published new policy to ban the use of single-use plastics
In January 2020, the Chinese government issued a new policy, "Opinions On Further Strengthening Plastic Pollution Control," which outlined a set of restrictions on single-use plastics and will be implemented over the next five years. The policy has indicated 4 time-nodes and 9 kinds of plastic products and will have impacts on the agriculture, catering, express – logistics, and other industries in the country.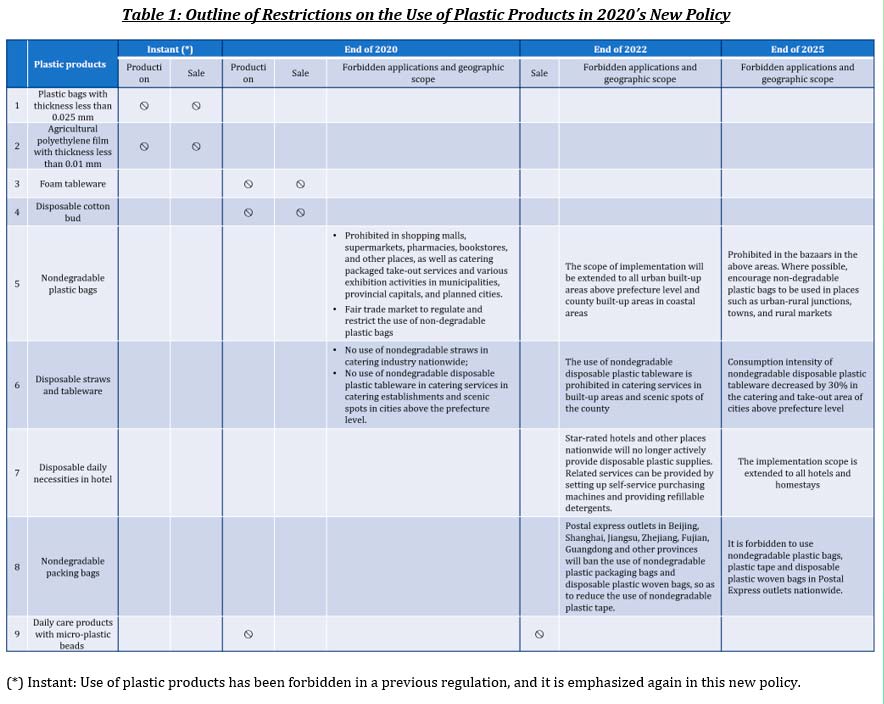 2020's new policy is not the first that the Chinese government issued to control plastic pollution. Several regulations were released in the last 20 years for promoting the use of degradable plastic materials (Fig.1). However, these regulations only limit the use of traditional plastic products like plastic bags, tableware etc. 2020's policy is the first to decide a ban of non-degradable products with a clear timeline and on a large scale.

Market players are adopting/developing new solutions to replace the plastic products in the ban list of 2020's new policy
Catering market
Paper and PLA straws are replacing plastic straws though some issues remain to be solved
So far, the most significant influence of the new policy is on plastic straws. Before the ban, some large-sized companies had already taken actions to replace plastic straws with paper ones. Illustration:
Starbucks stopped providing plastic straws in stores nationwide in 2019. Even earlier in 2018, they started to use specially designed cup covers and paper straws.
Heytea (喜茶), the most popular fresh-made tea brand in recent times, also started to provide paper straws and encourage customers to use paper straws instead of plastic ones.
Naixue's tea (奈雪の茶), another popular fresh-made tea brand, consumed over 1 million paper straws during the National Holiday in Oct. 2020 and reduced the use of 1.34 million plastic straws.
Nevertheless, paper straws cannot bring the same experience as plastic ones. Water resistance is still a large problem remaining to be solved.
Another option is to use PLA (Polylactic Acid) straws. PLA straws are degradable and have a texture similar to that of petroleum-based plastic ones (e.g. PP – Polypropylene). However, PLA straws cannot stand high temperatures, and they are not stable enough for long-term storage: usually, PLA straws start degrading after one year. At the same time, the cost of PLA straws is over 3 times higher than PP ones and also more expensive than paper ones.
Some large straw producers are transiting to develop degradable straws
Shuangtong (or Soton, 双童吸管) is one of the most famous straw manufacturers in China. Although for years, their main revenues came from plastic straws, they have prepared for this transformation by developing PLA products. Their capacity of PLA straws can meet large needs from the beverage industry after the policy comes into force.
Pengli (or Pride, 鹏力), a large packaging manufacturer for the catering industry, is also working on building its new images of degradable products. In 2019, Pengli announced its cooperation with the popular fresh-made tea brand Lele Tea (乐乐茶). Pengli specially designed paper straws and packaging for Lele Tea in order to present their brand image and sense of social responsibility. Pengli is also promoting its new solutions including PLA products, paper products and fiber-mixed products, especially its PLA products which can resist  temperatures up to 85°C.
Personal care market
Develop substitute for micro-plastic beads
Microbeads are beads with diameter lower than 2 mm, mainly made in PE (Polyethylene) or PP (Polypropylene). They are widely used in personal care products to increase friction for cleaning purposes. These beads are spread to every corner of the world by human activities; they are often not captured by wastewater treatment solutions and have consequently been discharged in all oceans across the globe. Because it takes hundred years for PE and PP to degrade, the microbeads can accumulate inside the bodies of animals and human beings and harm the whole eco-system and species variety.
The ban on microbeads will influence the personal care and cosmetics industries. As a key ingredient for cleansers, many companies are looking for its substitutes.
For example: Nikkei Catalyst & Chemical Co., Ltd. uses silica beads to replace plastic beads. These silica beads have smaller diameters, and some are hollow inside to ensure the same soft feeling as elastic plastic beads. Cellulose, wood and other degradable materials are also developed to replace PE/PP microbeads.
How will the 2020's new policy impact the plastic industry?
Commodity plastic, e.g. PE (Polyethylene), PP (Polypropylene) and PS (Polystyrene), will bear the brunt of the ban policy
PP, PE and PS are the most common plastic products in use for many applications: e.g.
Straws and disposable tableware are mainly made from PP today
Plastic microbeads and plastic bags are made from PE today
PS is the main material for foam tableware.
Stable and nontoxic properties of PP and PE make them widely used for food packaging, while their stable properties are also the reason why they need to be replaced. It requires hundreds of years for PP and PE to degrade in natural environments. Before these PE and PP products completely degrade, they will become plastic debris and contaminate the environment. From 2021, the use of PE and PP in some markets are more limited (e.g. no use for straws for catering services in Tier cities; no production of micro-plastic beads for personal care applications)
Foam tableware made by PS can be toxic under high temperatures. Regardless, foam tableware still exists in the market because of its cheap price. In 2001, the production and commercialization of foam tableware was banned in China. These restrictions were lifted a few years later. Starting in 2021, however, it is re-banned from both sales and production.
The policy may affect million tons of plastic demand each year
Plastic straws: In 2019, the total production volume of plastic straws in China is estimated to be 30,000 tons, equivalent to 46 billion straws. These plastic straws need to be replaced with degradable ones by the end of 2020.
Packing bags in express industry: It is estimated that 1.4 million tons of plastic packing bags were consumed in 2018, and 99% of them were not recycled.
Agricultural film: In 2018, the production volume of agricultural film was estimated to be 85.2 million tons. All of these products are non-degradable and require substitutes.
Great potential is foreseen for China's degradable plastic market while problems still remain, considering the cost and performance of alternative solutions
Degradable plastic market in China is expected to reach 2,380 k tons and 47.7 billion CNY in 2025 (~ 6.1 billion EUR and 7.2 billion USD), growing from 640 k tons and 12.8 billion CNY in 2020 (~ 1.6 billion EUR and 1.9 billion USD), at CAGR of ~30% for both market volume and value.
Current available substitute materials
PLA: Polylactic Acid, economically produced from renewable resources, most common degradable material, relatively low cost
PBAT: Poly (Butylene Adipate-Co-Terephthalate), fully biodegradable alternative to low-density polyethylene, outstanding film forming property
PHA: Polyhydroxyalkanoates, the product of unbalanced growth conditions of bacteria, high deformation temperature and good biocompatibility
Starch plastics: complex blends of starch with biodegradable or compostable plastics. These complex blends improve water resistance as well as processing and mechanical properties.
4.4 million tons of degradable plastics capacity is under construction or in plan in China (*)
(*) Based on available data until Nov. 2020
The current capacity of degradable plastics in China cannot meet the large demand, so materials like PLA rely heavily on import. With the capacity to be released in following years, the shortage of degradable plastics can be largely relieved.
It is estimated that 4.4 million tons of degradable plastic capacity has been under construction or planned nationwide by 36 companies, for example:

The first problem is cost. The price of degradable straws is at least 3 times higher than PP ones.
The second problem is performance.
 The water resistance performance of paper straws still cannot meet many customers' requirements (taste etc.).
The PLA straws could be better in water resistance, but the stability problem cannot be ignored. PLA straws will degrade after being stored for 12 months. Meanwhile, PLA is not as good as PP in terms of heat resistance.
Another uncertainty is the execution of the regulation. Although many large companies have already shown resolutions to follow the regulation, the government still needs to spend many resources in investigating and dealing with illegal use of non-degradable products, especially in less developed regions and cities. Many small business owners may still take risk and ignore the regulation and keep using non-degradable products because of their lower costs.
Conclusions
The new policy shows the Chinese government's resolution of environmentally friendly development. Up to million tons per year of plastic demand might be affected by this new policy; commodity plastics like PP, PE, PS will bear the brunt.
Paper and degradable plastics, such as PLA and PBAT, are considered as the prospective alternatives for traditional plastics. Some large players in the catering market have been using paper and PLA straws already, and increasing demand for these alternatives will be driven by the further implementation of this new policy.
In order to prepare for further limitations on non-degradable plastic, many companies are planning more production capacities (e.g. for PLA, PBAT) and developing technologies to capture market shares, such as Jindan, Kingfa etc.
Although great potential is foreseen for the degradable plastic market in China, issues of higher cost and drawbacks of performance need to be solved if further development is expected in the market.
Furthermore, concerns remain as to how well, fast, and widely the policy could be implemented in the next few years, though there is no doubt about the willingness of the Chinese government to strengthen its environmental protection measures.
Daydream (www.daydream.eu) is here to help you define and execute market strategies and new business development in the plastic market in China, Asia, Europe & North America with the best ROI. Over 100 specialty chemicals & materials manufacturers trust us with their Technology Scouting, Voice of Customer, Market Analysis, Business Development support, and more.
 Source of information
1.      Opinions on further strengthening plastic pollution control, National Development and Reform Commission, Ministry of Ecology and Environment, Jan., 2020
2.      The market scale of degradable plastics is expected to reach 100 billion in the next 10 years, Huaan Securities, July, 2020
3.      Is it a lie that paper straws are more environmentally friendly? 36 Kr, Oct., 2020
4.      Microbeads "restart" – what to replace you, plastic microbeads, Truebuty, May, 2020
5.      Over 8 million tons of plastic wastes end up in ocean every year globally, People's Daily, May, 2020
6.      Environmental Impact Assessment
Abbreviation
PLA: Polylactic Acid
PBAT: Poly (butyleneadipate-co-terephthalate)
PHA: Polyhydroxyalkanoates
PP: Polypropylene
PE: Polyethylene
PS: Polystyrene